Select a
River Basin
Informations on
river basins, projects
& campaigns



RiverLink
Contacts and websites worldwide



RiverNews
and Mail lists


Dam Decommissioning



Waterpolicy &
river management


Educational projects





About Rivers
Basics. What is a river, a living river ?



About us / contact
(European Rivers Network & RiverNet)



Belgiums Big Jump Poster 2012
---


30.03.13 : Watch the super Trailer "Damnation" produced by PATAGONIA :
"Dam removal is no longer the work of a fictional Monkey Wrench Gang. It's real, upon us, a cornerstone of the modern environmental and cultural movements" ....

27.03.13 : France: The project "Canal Seine-Nord Europe" meets big problems (f)
14.03.13 : International Day of action for rivers : against dams on the world
10.01.13 : Controversial Ilisu Dam on Hasankeyf halted by Turkish court (PR Doga Dernegi)
29.08.12 : Bresil : Supreme court overturns suspension of Belomonte Dam (lR, e)
22.08.12 : Mexico : la Parota Dam project cancelled after years of campaigning (IR)
16.08.12 : Belo Monte Dam Suspended by Brazilian Appeals Court. Project was illegally authorized by Congress without prior consultations with indigenous tribes, judges say
20.07.12 : Portugal to build a new dam in a UNESCO World Heritage site: sign and Stop the Tua River Dam

08.07.12 : Regional Big Jump Day 2012 :

Thousands of people jump in european rivers demonstrate, jump and swimms for more clean and living rivers and waters.

The european River swimming day is initiated by ERN and celebrated in 10 countrys and arround 200 places

04.07.12 : France decide to dismantel two dams on the Selune River in the Normandie. One of them will be the highest dam ever dismanteld. 36 m / 278m (Press release Friends of the Selune, NGO, in french only)
02.04.12 : One dam thing after another ! Iceland Government suspends plans for three big dams following a successful salmon protection campaign
30.03.12 : Indias multibillion Dollars Interlinking Rivers Project is back. Bangladesh, Nepal and Bhutan are concerned (BBC)
17.03.12 : FAME - the alternative World Water Forum in Marseille : a hughe succes
14.03.12 : A final dam wave in the Danube River Basin (DEF pressrelease)
14.03.12 : Turkey Heritage before Hydropower: Petition to UNESCO on Ilisu Dam launched
14.03.12 : Civil Society Rejects Greenwashing of Dams at World Water Forum (by International Rivers and others)
14.03.12 : The international day of action for rivers
11.03.12 : CALL TO ACTION : March 14th : International Day of Action for Rivers and Against Dams. Create a Living River in Central Marseille! Protest Against the Greenwashing of Dams!
31.01.12 : World Bank's Program-For-Results Loan Instrument: Good Intentions?
26.01.12 : Turkey : Villagers' protest at Istanbul's Topkapi Palace against the planned Ilisu dam
Press Release by the Turkish Nature Association Doga Dernegi
15.01.12 : 14 of march 2012 : International day of action for rivers. Participate !
06.10.11 : France to dismantel the Poutès dam (17m) on the Allier river (Loire), f
04.10.11 : USA : The emblematic Condit Dam (White salmon river) to be breaches october 26
28.09.11 : Eurelectric report : Half of european Hydro power untapped (276 Twh) ??
10.07.11 : Big Jump 2011 (regional version) : record participation
09.07.11 : Last chance : Have you registered your Big Jump Event ? (10.07.11)
08.07.11 : Turkey: Drowning the Past in the Waters of Progress (Hasankeyf)
16.06.11 : EU Commission is referring Spain to the EU Court of Justice for breaching two pieces of EU environment legislation.
04.04.11 : Pakistan: US pledges $500m for Bhasha dam
19.03.11 : Turkey and Syria lay foundation stone of 'Friendship Dam'
08.03.11 : China : Dam Nation -When Beijing counts hydropower as "green energy," it's doing the environment -- and its economy -- no favor.(Foreign Policy)
03.01.11 : Big Jump 2011, regional edition: July 10, 3pm GMT+2
22.12.02 : Red pollution in Hungary - the actual situation (f)
16.12.10 : Alstom to supply equipment to Guanyinyan hydroelectric dam in China
16.11.10 : China begins damming Brahmaputra river for hydropower project
03.11.10 : Scotland Aims for First Hydro-economy
07.10.10 : Pollution in Hungary : The polluted water flows into the Danube River (d, WWF)
30.09.10 : RIVERS IN CRISIS REPORT 2010
02.08.10 : Chilean Patagonia is under attack by an international dam building company
18.07.10 : Czech Republic : New Coalition for Rivers wants to achieve more effective and nature friendly flood prevention and protection measures
11.07.10 : Big Jump at 3 pm : A total success with over 250 official and 400 or more inofficial or privat Big Jumps in 20 countrys in Europe ! More informations
08.07.10 : A Big Jump in Europs rivers and lakes to improve the implementation of the european water policy ! (Pressrelease ERN / EEB)
28.06.10 : Last call to participate. Big Jump, the demonstration in the water for the water !
30.05.10 : Huge protest march in Barcelona to protect the river Ebro
06.04.10 : Second call : BIG JUMP 2010, July 11, 3pm Participate, Sign in !
04.04.10 : Montenegro : Moraca River endangered by 4 dams projects (WWF) ! Sign !
15.03.10 : Turkey : Many thousands people demonstrated against dam projects in the whole country (International day of rivers)
23.01.10 : Turqey negociate water export to Syria, Israel and Lybia (f)
21.01.10 : Three Gorges Dam forces relocations of 300,000 more
22.12.09 : L'Oural, third biggest european river could dry out in its middle cours (f)
17.12.09 : Sharp drop in Ireland's top quality rivers revealed
11.11.09 : Australia : Peter Garret, the federal minister for environnement stop the controversal project of the Traveston Dam on the Mary River
20.09.09 : Iraq Reaches Water, Energy and Trade Agreements With Turkey
20.08.09 : Transfer massive de l'eau manquent de transfers lacking scrutiny (WWF Report)
10.07.09 : European banks withdraw from Ilisu dam project in Turkey - Non governmental organisations welcome pullout as the right decision
09.06.09 : Ilisu Dam-Affected People Expropriated amidst Ultimatum
Turkish Government snubs Europeans shortly before the Deadline
28.05.09 : Ilisu dam project on the Tigris: International Standards not reached despite ultimatum. Cultural heritage doomed to be lost
14.05.09 : Turkey : Ilisu Dam project : Internationale Petition to stop the construction and to preserve the World heritage (g)
21.04.09 : China to build 20 hydro dams on Yangtze River
14.03.09 : World Water Forum 5 in Istanbul : First day : 19 persons arrested ! (d)
02.02.09 : Lake Chapala in Mexico declared as RAMSAR site (GNF), (g)
31.12.08 : China Slows Water Project. South-to-North Plan Faces 4-Year Delay on Impact Concerns
23.12.08 : Turkey : Ilisu Dam Project facing severe backlash, (NGO Press Release)
18.12.08 : China : Yunnan's Xiaowan Hydropower Station started filling with water
12.12.08 : China : Official Cites Hydropower's Messy Splash (Caijing Magazine)
27.11.08 : ICOLD (Art. Le Monde) : After years, come back of large dams (f)
26.11.08 : Australia / Traveston Dam project : Aussie Activists Celebrate Dam Suspension (by IR)
14.10.08 : China plans to build 750 dams across Tibet
08.10.08 : Germany, Austria and Switzerland have started the official process of withdrawing financial support for the Ilisu project in Turkey (e)
25.09.08 : Bulgaria Government Revives Hydroelectric Projects on Danube River
18.09.08 : USA : Dam reservoirs invaded by nonindigenous species (f)
14.09.08 : Fertilisers linked to contaminated drinking water in Evros, Greece
27.08.08 : Switzerland : Potential for Small Hydropower Plants Recognised
23.08.08 : Stockholm / Waterweek : 50 % of the waterconsumption by agricultur is wasted ! (f)
31.07.08 : Environmental Information Portal lauched by EEA and Microsoft
28.07.08 : Mediterranean area : Tourism Puts Growing Pressure on Water Resources
23.07.08 : France unveils plan to boost hydropower
06.07.08 : BIG JUMP Day in Europe !
19.06.08 : Chinese experts appeal to authorities to suspend big dam projects in southwest China following Sichuan's deadly earthquake
18.06.08 : WWF warns Turkey of approaching water crisis
17.06.08 : European standards for surface water (f)
12.06.08 : Call for the intermediary Big Jump 2008 (July 6)
19.05.08 : Spain / Water transfers. The actual situation, (an overlook by ERN)
18.05.08 : Spain : Large demonstration in the delta of the Ebroriver (Amposta) against water transfers
Amposta, 18 of may 2008 (Plataforma)
RIVERNET

is a service provided by

ERN (EUROPEAN RIVERS NETWORK)

.

The aim of ERN and RiverNet is to interconnect all forces working for living rivers and to provide information on river-basins and organizations !

T

hese pages and their contents are © Copyright of the European Rivers Network.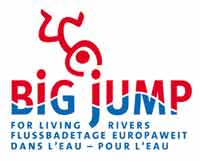 2005 - 2015
regional edition 2013 :
14 July at 3 pm GMT+2
(Paris and Berlin Time)
FOCUS :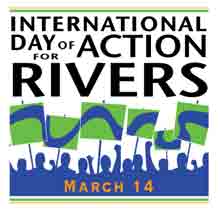 ---
EEBs
TEN RIVERS REPORT 2012 (30MB)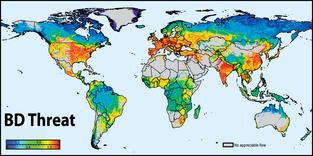 global threats to River Biodiversity (BD)
RIVERS IN CRISIS REPORT 2010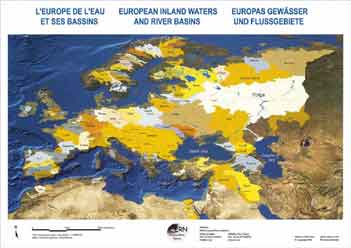 Great poster
"Europe's Riverbasins" ?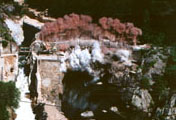 Flying dams - dam decommissioning


World Rivers Stress