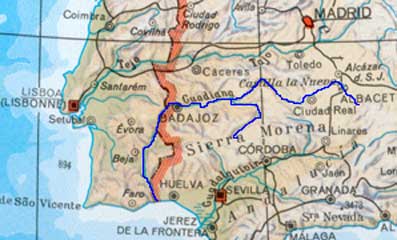 The Guadiana river is one of the longest streams of the Iberian Peninsula, flowing generally westward through south-central Spain and southeastern Portugal to the Atlantic Ocean. Its flow is relatively meagre because its basin drains the low-rainfall areas of the Toledo Mountains, the Sierra Morena, and the plains of La Mancha.
The Záncara (the true source of the upper Guadiana) and Gigüela rivers rise in the wetter mountains of Cuenca. To the west of Daimiel these rivers form marshy lakes, known as Ojos del Guadiana ("Eyes of the Guadiana"), a noted wildfowl sanctuary. By contrast, the porous limestones found in other parts of the river's basin form a shallow water table, producing intermittent streams such as the Guadiana Alto, Azuer, and Cárcoles that disappear underground, though eventually feeding the Guadiana.
It then crosses the Toledo mountains (see below "Badajoz Plan"), forms parts of the Spanish-Portuguese frontier, and flow through Portugal to the Gulf of Cádiz.
Length
:
483 miles (778km)
Basin area
:
23,455 square miles (60,748 square km)

Particularity :
The Badajoz Plan :
In the Toledo mountains, the Guadiana cuts a series of defiles through the ridges. They are now
the sites of several dams that provide hydroelectric power and irrigation waters for Badajoz province. The four major dams have each created reservoirs more than 20 miles (32 km) long. The Badajoz Plan, as this project was called, was launched in 1952 to develop one of the poorest and most arid regions of Spain.
It was completed in 1960.