Launched on January 4th, 1994, the «

Plan Loire Grandeur Nature

» aims at reconciling economic development,flood control environment protection on the Loire basin.It plans notably several measures aiming at restoring the populations of Loire-Allier migratory fish: salmon, the most symbolic migratory species, but also eel, sea trout, shad and lamprey. Indeed, salmon are not the only fish migrating up the Loire and the Allier rivers.Sturgeon sadly disappeared in the early '30s but other species are still present, which perpetuate old fishing and gastronomy traditions, typical of the Loire culture, and participate in the ecological diversity of the Loire river and its tributaries.





Dam demolitions and construction of a large hatchery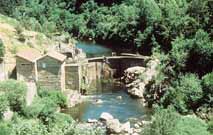 ( photo SOS Loire Vivante):
Dam de Saint Etienne du Vigan / Haut Allier
The « Plan Loire Grandeur Nature » plans the demolition of two EDF dams

(Saint-Etienne du Vigan on the Upper Allier and Maisons-Rouges on the Vienne river)

and the improvement of about 10 obstacles, notably in 1996 and 1997, the nuclear plants' sills. The construction of a fishladder on the « dam-bridge » of Vichy, also planned by the Loire plan, is now completed. The goal on the Allier basin is to give back to salmon about 300 hectares of spawning grounds, notably on the Sioule, the Dore and the Allagnon rivers. On the Vienne basin, which used to represent a fourth of the Loire basin salmon spawning grounds in the 19th century, part of the breeding areas have already been rehabilitated; the demolition of the Maisons-Rouges dam will enable salmon to recolonize the Creuse and Gartempe rivers.

Salmon are such an endangered species that two additional measures have been launched. Adults still naturally come and breed on the Upper Allier, but they are so few that all fishing has been banned for at least 5 years and a large hatchery is planned. The objective in 10 years is that 6,000 adults show up in the estuary every year. The hatchery will be built on the upper Allier, in the « département » of the Haute-Loire. Its estimated cost over 10 years, including production, should be $10 million.(FF50 million)
But there are other efforts to make...

But salmon are not saved yet ! On the Upper Allier, nothing is planned for the demolition of the old EDF Poutès-Monistrol dam. On the Upper Loire, the Villerest and Grangent dams are not equipped with fishladders. As for the Loire estuary, a crucial passage during the migration, it is threatened by the extension of the Saint-Nazaire port and the construction of a new nuclear plant....

You too can help the last wild salmon of the Loire and Allier : you can become a member of SOS Loire Vivante, which has been working since 1991 at saving this species, symbol of the wild Loire, you can contact the addresses below and get informed!

back to the Salmon-Homepage
hese pages and their content are © Copyright of European Rivers Network.