Information's on River basins, Projects
& Campaigns
from Danube via Loire, Narmada ,
Three Gorges to Wolga.....
Select in our worldwide list

---
RiverLink
addresses and website
---
RiverFax
one of our publications
---
About Rivers
Basics. What is a river, a living River?

---
---
---
---
Report (Results .. and more) soon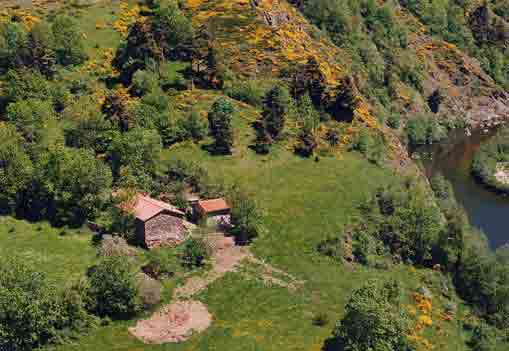 SOS Loire Vivant's "Mas de Bonnefont", Haute Loire, France
INVITATION for THE FIRST EUROPEAN RIVERS NETWORK
THINK - CAMP in SOUTHERN FRANCE (31ST JULY - 5TH AUGUST 2000 )
Dear friends of rivers,

European Rivers Network is organising a Think-Camp that will gather people fighting for living rivers. You will find below its aim and organisation. As we wish the team to remain a small one, we are sending a restricted number of invitation and we will be very glad of your presence. Introduction The aim of the think-camp is to establish contacts and links between us, to take time to think, to step back for a while from daily "business" to identify real challenges and design strategies for the future. To have a look on what should be done in this new century. The ideas that will thus come out may initiate future meetings or specific conferences. There will be a productive atmosphere with a minimum of presentations, no podium sessions, no townhall reception and a maximum of teamwork, relaxing and inspiration (walks, swimming, etc). The place is favourable for this kind of reflection : we will be alone with the river !

The workshop will take place in "Mas de Bonnefont"- farm. It is located in the beautiful upper Loire river valley, which was to be overflowed by the Serre de la Fare reservoir. The association SOS Loire Vivante, who has prevented the building of the dam trough a 10 year long fight included a year occupation, now own this remote renovated farmhouse. No car can reach the place and it takes 20 mn to get there so remember to bring adequate shoes. The valley lies in the Haute-Loire area, roughly 500 kms south from Paris and 200 kms south-west from Lyon (these 2 cities being endowed with an international airport.)
We would like the group to remain small : 15-20 persons fighting for living rivers in Europe and Eurasia, and a few observers from the other continents. This phase will be exclusively
ours : no experts will be present. Activities will be organised for accompanying people (family, friends, etc.) Below are propositions of some issues we think should be debated. Everybody is invited to bring his ideas about what should be added, modified, developed, deleted, etc. for the definitive guideline of these days to be established. As, we won't be able to deal with all of these issues, we have to choose afew together. Comments are welcome !
This type of meeting being unusual, it is difficult to find funding. We will yet try to provide free food and lodging, except for people coming from southern and eastern countries for whom we will pay as well for at least a part of the travel expenses. Activities will be organised for accompanying people (family, friends, etc.) The accommodation there will be basic : common rooms with mattresses or tents outside. Shower, toilets, water and a little bit of solar electricity will be available.
Concerning lodging, there are 3 possibilities : - you can bring, if possible, your own tent and sleeping bag - you can sleep in one of our 2 dormitories (mattresses provided) - we can lend you a tent and a sleeping bag. The weather will be warm so there should be no problem for camping ! Concerning food, a team of cooker will organise everything. Don't forget to bring walking shoes, your swimming suit and something typical from the country you are coming from (vine, etc) !
your Roberto Epple
Director and Founder
A - Identifying future " opportunities and threats " for the first quarter of the 21st century (focus on Europe).
B - Is networking the best type of structure for the 21st century to deal wih this issues ? Are there new forms of "working together" ?
C- Networking and democracy ?
D- Would an extended ERN be a solution ? If yes, what should be the role and organisation of ERN ?
E- How to organise the connection and interaction between European and or Euro-national NGOs with groups working on a worldwide scale on freshwater, human rights, sustainable development, etc.
F - How to increase coordination or cooperation between and with the big European NGO's?
G -National NGOs in Europe and their relation to EU. Do we have to adapt our structures ? Is everything OK ?
H- Role of European NGOs in the fight against European companies damming abroad (EDF, etc)
I -Role and position of European NGOs in water privatisation process, in Europe and overseas (Vivendi, Lyonnaise des Eaux, etc.)
K- Strategies, targets, priorities, methods, tools to fight the upcoming inner European issues :
- 1. Fighting TEN (Trans European Transportation Network - Waterways) in Central and Eastern Europe
- 2. Dam decommissioning in Europe
- 3. Water shortage in Southern Europe (arid areas of Spain, Turkey,Greece, Portugal and Magreb)
- 4. What in Europe after the nuclear era ? More dams ?
- 5. Hydropower = Greenpower ?
- 6. What is the next step to save rivers once the cleaning up of (west-) European rivers will be over ?
- 7. Role of European NGOs in the application of the EU WATER FRAMEWORK DIRECTIVE
As we won't be able to deal with all these issues we should choose some of them together. Discussing these issues will take a lot of time but a part of each day will be devoted to walks, swimming and more !
14.07.00 News and draft list of participants
News from ERNs Thinkcamp (J-18) Dear participants to the 1st ERN ThinkCamp, Two and a half weeks left now till our meeting ! We are intensively preparing our house to welcome you. The last works are being completed, the garden and the campsite are being arranged ... The team of cookers is now complete. It will be a cosmopolitan one : Anne-Laure from France, Nathalie from Switzerland and Djemail from Turkey !
1. Participants
Many people have already sent the confirmation of their participation. Liste
(updated 20.7.2000):
BISMUTH Christine, Exec. Director SOLIDARITE EAU EUROPE Germany/France
BOWDEN Simon, River Teign Campaign, UK
BRINKS Elizabeth, IRN USA , River Revival Campaign
CANO Murat, Avocat, Barreau d'Istanbul (Ilisu Campaign), Turkey
CHAMBONNET Colette, Biologist & Board Member SOS Loire Vivante, France
DEVISSE Jean Stephane , Transport/Clima/Energy Dep., WWF, France (2-3 days)
DÖRFLER Ernst Paul (BUND - River Elbe Campaign Director and Wrighter), Germany
EK Göran, General Secretary, Swedish Society for Nature Conservation Sweden
EPPLE Timur, ERN-SOS Loire Vivante, InterNet Publishing RiverNet, France/Switzerland
EPPLE Roberto, ERN, Founder / Exec. Director, France/Switzerland
GREFF Liane, Environmental Monitoring Group, South Africa
GUNKEL Stefan , ERN, GIS and Waterwaysprogramme, Germany
JANOSSY Andras, Danube Foundation, Hungary
JEAN Eric, Archeologue, IFA Istanbul, Turkey/France
KARLIK Vlastimil, Campaign against Dams on the Labe ,Children of the Earth , Czech Republic
KOLPAKOVA , Elena Russian Rivers Network/ Let's help the River, Russie
KRYVLOV Fedor, Let's help the river, Educational programms, Russia
LAMMERS Owen, Exec.Director, Glenn Canyon Action Network USA
MARTINOVA Elena, Russia / Siberia Dam Campaigns
MICHEL Stefan, Turkey/GAP Campaigns NABU, Germany
MBODJ Aboubacry, Représentant de la CODESEN Dakar, Senegal
OLFERT Alfred, ERN, Programmdirector Eurasia and CentralEurope, Germany
PARAISOT Stephane, SOS Loire Vivante, Educational Programms, France
PEMPONGSACHAROEN Witoon, Mekong Campaign, Thailand
PLANCHE Edith , ERN, Ethnologue - Coordinator Educational Programms, France (2 days)
POUPET Jean Christope, Loire Office WWF France, France (2-3 days)
ROUSSEAU Gaele, ERN, campaigns assistent and information coordinator, France
SHAFARENKO Sergey Cultural-Environmental Union "Belovodye" Kazhak Republic
SRETTHACHAU Chainarong (Fiat), Campaign Officer , SEARIN, Thailand
TIBET Aksel, Institut Francais d'Etudes Anatoliennes ,(Archeologue et Secretaire), Turkey
VLASIN Mojmir, Ecological Institute Veronica, Czech Republic
WILLIAMS Phil, President and Founder IRN USA
For instant we are waiting for at least 5 other persons !
2. Application Forms and Transport
If you haven't done it yet, please send us back the application forms and Transportinformations . Getting your arrival time will enable us to schedule our shuttles from Lyon to Bonnefont.
3. General Program
30. August or bevor: Arrival in Bonnefont
31. August, 10 H Thinkcamp Start
The ThinkCamp includs 2 excursions (a 3h walk in the wild Loire river valley and a trip by car to St-Etienne du Vigan ex damsite combined with a 2h walk). Parallel activities for accompanying people are still planned
5. August, 17 H official End of theThinkcamp
6/7 August Boat trip Haute Allier and visite of the Loire Spring.
Next week a dayli programme of the activities that will take place during the camp will be sent. All are team is looking forward meeting you.
Please phone us if you have any questions : Office : +33.(0)4.71.05.57.88 or +33.(0)4.71.02.08.14) Roberto Epple : cellulare phone +33.(0)6.08.62.12.67 or privat +33.(0)4.71.03.11.47
20.08.00 : Outcom (short Draft)
An international Think-Camp has taken place in Haute-Loire (France) from July 31st to August 5th 2000.
Over 40 NGO's leaders from European countries as well as observers from Asia, Africa and North America have taken part to this ERN (European Rivers Network) organised meeting. (Participantlist , Invitation/Programm)
One of the main aim was to elaborate common strategies to face the new 21st century issues.
Four main questions have been worked on :

- Creating new means of "trans-NGOs" co-operation. How the NGOs that are directly or indirectly working on river conservation issues, and that are coming from different backgrounds (environmentalist, human rights, cultural heritage conservation, etc.) can be structured and network their abilities to collaborate efficiently on a long term basis. The issues of the collaboration with governmental organisations and between NGO's networks on a world-wide level have also been tackled.

- North-South solidarity. European standards not allowing anymore the building, in our countries, of structures like big hydroelectric projects, occidental firms are more and more exporting these technologies towards developing countries, using unacceptable environmental, humanitarian and economic guidelines. What can be the role of "northern" NGOs in these big "development" projects ? How can they help to create and implement an internationally enforceable ethic ? How can they lobby and inform on the firms involved in those projects, as well as on the structures financing them (Aids agencies, Export Credit Agencies, etc.). How can they help local NGOs working inside the affected countries ?

- TEN (Trans-European Transportation Network). How a collaboration between NGOs can help to counter this project of channelisation and inter-connection of big European rivers. -

"Green Power". A new threat to European rivers is appearing now that nuclear era is over. Main electricity producers are already campaigning on the "green" value of hydroelectric energy. How can NGOs help to create an acceptable "Green Power" label ? What criteria should be compulsory ?

Those discussions have led to several decisions. First of all, it had been clear to all the participants that a reinforced collaboration between NGOs was essential. The first ideas for a structure that could gather them have been drafted. An extended ERN should be created. In order to realise this, a group of people has been designated to study and present a detailed scheme for this new organisation. It has also been decided that two conferences will take place : one on "Green Power" and the problem of labelisation, another on TEN. Another Think-Camp, organised on the same principles, will also take in the next three years. This new way of working (free planning, team work, etc.) has indeed proved very efficient !
contact: (Founder ERN), +33 608 62 12 67